SPECIAL OFFER DISCOUNT: Build Your Brilliant Brand Starter Guide PDF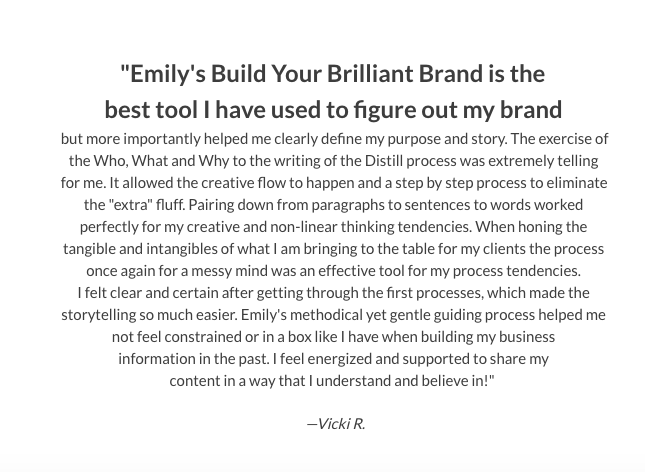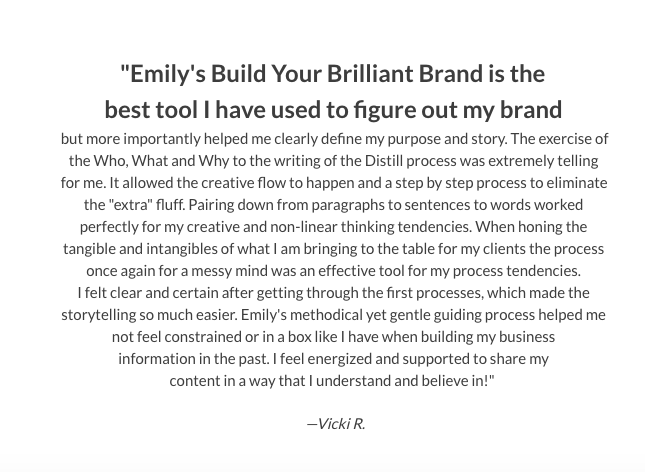 sale
SPECIAL OFFER DISCOUNT: Build Your Brilliant Brand Starter Guide PDF
A Starter Guide taking brand beginners from confusion to clarity

If you're a Brand Beginner, Emerging Entrepreneur, Small Business Bootstrapper, Nonprofit Novice, or (I'm running out of alliterations)—just a person who wants to build a brand but doesn't know where to start, this starter guide is for you.

Do you…
Know you need a brand, but don't know how to get started?

Feel overwhelmed, confused, or curious by all that goes into branding?

Wish you had proven methods and step-by-step strategies to unlock, organize and activate your branding genius?

Struggle to tell your brand story in a powerful, memorable, authentic way?

Wonder how to narrow the focus of your brand to engage hearts and minds, build a following and drive sales?

Dream of building a stunning, soulful, stand-out brand that's uniquely and unmistakably yours?

You're in the right place, my friend.
All the strategies, guidelines and tools that helped me get grounded in the basics of branding are at your service.
This workbook for brand beginners will help you understand, articulate and activate a brand that is uniquely and unmistakably yours.
You will:
Learn the basics of branding—what it is, why it matters, how the brand building process works

Reveal and activate the 3 key elements of your one-of-a-kind Brand DNA

Uncover the rational and emotional case for your business

Set the North Star that will focus and guide your brand strategy

Learn how to write a brand story that sticks

Craft your powerful brand story and assemble a short and long version to use on critical platforms

Develop a memorable elevator pitch rooted in your Brand DNA

Get special access to a surprise bonus!
"This was a total no-brainer investment in my business! Emily delivers unbelievable value and makes brand building easy to understand and implement. Now I feel like I have all the tools I need (and then some) to get my brand off the ground."
— Jess B.
Emily's Build Your Brilliant Brand has been the best tool I have used to figure out my brand but more importantly helped me clearly define my purpose and story. The exercise of the Who, What and Why to the writing of the Distill process was extremely telling for me. It allowed the creative flow to happen and a step by step process to eliminate the "extra" fluff. Pairing down from paragraphs to sentences to words worked perfectly for my creative and non-linear thinking tendencies. When honing the tangible and intangibles of what I am bringing to the table for my clients the process once again for a messy mind was an effective tool for my process tendencies. I felt clear and certain after getting through the first processes, which made the storytelling so much easier. Emily's methodical yet gentle guiding process helped me not feel constrained or in a box like I have when building my business information in the past. I feel energized and supported to share my content in a way that I understand and believe in!
—Vicki R.
"I'm so happy I found this resource. Every time I tried to tackle my brand on my own I'd quickly get overwhelmed by the process, and didn't clearly understand all that went into it. This is an awesome, comprehensive and effective tool for entrepreneurs!"
—Kacee S.
"I loved working through this workbook. It was such an amazing guide and it has made a huge impact in how I think of my business moving forward!"
—Shar P.